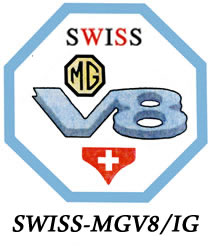 News from UK
Click on the image:
You can follow all the Recent Changes from the V8 Register in the UK.
---
News about the MG Owners' Club
---
Recent changes: V8 Curry and the MG-Triumph Show at Stoneleigh
---
Recent changes: See the range of goods and services at the V8 Shop
---
Recent changes: How do MGBGTV8 prices compare with the Datsun 240Z?
---
Recent changes: Report on the SWISSMGV8/IG 5th Anniversary event
---
Recent changes: New MG E-Motion revealed in Shanghai
---
Recent changes: Report of Swiss MGV8/IG Spring meeting & lunch
---
Recent changes: Membership and MGV8 registrations review for 2016
---
Recent changes: Swiss MGV8/IG - end of seasons get-together
---
Recent changes: 35th Anniversary dinner of the MG Club de Portugal
---
Recent changes: RV8 Note 419 - "Touch up for RV8 leather trim"
---
What can the MG V8 badging reveal?
Bericht vom V8 Register UK
PDF
---
Autumn meeting for the Swiss MGV8/IG
Victor Rodrigues says "Now our V8s are definitely starting the "winter-sleep" in the garage until Spring-time 2016 arrives!"
---
News in Recent Changes / Report of two Swiss-MGV8/IG events
2nd August 2015
---
Neuigkeiten vom MGB/GTV8 Markt in England
Der aktuelle Trend des MGB/GTV8 Markts in England zeigt in letzter Zeit deutlich nach oben, dies sicher als Folge der kürzlich ausgestrahlten TV-Sendung Top Gear in BBC2.... mehr
---
Vergabe des Goldenen Nuffield Pokals an das V8-Register UK
Am Gala Abend des Silverstone Meetings MG-LIVE/2015 wurden V8-Register UK Chairmain Victor Smith und secretary Debbie Branding für ihr Engagement.... mehr
---
Price guide for MGV8s
Check the Price guide for MGV8s
---
The Swiss passion for MGs
The Swiss MG enthusiast Victor Rodrigues had been looking for a low mileage RV8 for some time when a friend in Surrey spotted an RV8 for sale at an Aston Martin dealer in Walton upon Thames in Surrey..
Report by Victor Smith, V8-Register MGCC UK